Kristine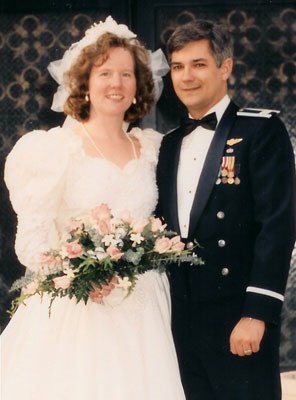 Eulogy for a Gulf War Physician
delivered by her husband, Michael, on August 24, 2011
Kristine would be most impressed to see all of you here. Thank you. That you personally have come here today is much appreciated. It really does mean more to me and my children then you can imagine.
This room is a family of sorts, brought together by an amazing woman who knew how to make a family come together. The church is a family too. And seated up front are Krissy's family.
And I believe there are People with ALS here, too, who have never met my wife, but they know her more than most people do. The stress and demands of ALS have been known to rip families apart. Ours came closer, if that was possible.
Let me be clear on this. Kristine did not lose her life. She lived her life. Don't cry for her. Learn from her example. She was always smiling.
I met her on a party bus. While the military assigned her to Europe, she skied every weekend in Austria, Italy, France, Switzerland and Germany.
We cruised together in the Mediterranean and the Caribbean, dived in scuba gear, and snorkeled on the coast of Turkey, Mombasa, and Jamaica.
She took me on a photo safari in Kenya, to see the pyramids of Egypt and the Great Sphinx. We cruised the Nile River and visited King Tut in Cairo.
Krissy and I saw the actual ruins of Troy and Neanderthal, the Colossus of Rhodes, ate dinner at the Acropolis, took a midnight gondola ride in Venice. We took Stephen and Rebecca on a tour across the US, showed them Manhattan, Ground Zero, DC, Mt Rushmore, and so much more.
I think you get the picture. If there was something life could offer, she drank from the cup of life fully and she shared the experience with anyone who would dare enjoy the world with her.
She had an innate sense of duty with the highest moral values. As a doctor, she insisted those around her be fully competent, supportive and totally dedicated to the patient's well-being. She had no patience with medical providers who were not totally dedicated to the patient.
That's not a popular stance; but Kristine was never ever concerned with popularity, fashion, or climbing the political ladder at work. She just focused on her patients. She saved a lot of lives, most recently at the VA Medical Center nearby.
And her family. I've never seen such a close-knit, loving family. Laughing and giggling all the time. It's actually a strange Brady Bunch existence at that house. The Waltons got nothin' on the Wills.
Kristine was at all her children's soccer games, basketball games, baseball games, skate parks. She was the loudest one cheering on the kids.
The disease that took her life did its work so quickly that the Mayo Clinic asked to study her. Disabilities that normally take 5 or 6 years to develop attacked her in just a few months. Each week, another devastating symptom.
But through it all, she was at home, surrounded by family. She directed her own care, made the medical decisions, and even when she could not lift a finger, when she could not speak, she was still in total control, always doing the right thing for the patient.
Her's was a life lived fully and well, and in the service of others.
I guess God needed a new angel, a fun angel, a selfless, sacrificing angel. Now the whole world has Kristine to smile over us from Heaven.