confused between hirayama and als
Submitted by vishal on Wed, 04/19/2017 - 07:00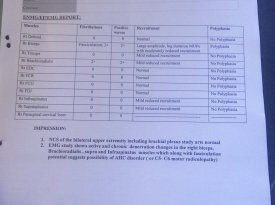 I am new to this forum, when I noticed weakness and muscle wasting I consulted a neurologist.
The neurologist had done nerve conduction study and EMG. NCV is normal, but I am not able to interpret EMG report.
Please go through the following image and let me know your views on it.