Living with ALS
Submitted by azgirl on Fri, 12/09/2016 - 10:49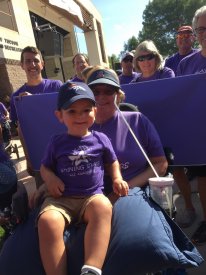 Three Years
Today I celebrate the three-year anniversary of the worst day of my life. I was so scared that day, looking ahead to life in a wheelchair, giving up all independence, and being such a tremendous burden to my family. All of that happened, and there is no way to sugarcoat how difficult it has been for me, and all those close to me. But the weird part is, how much joy I have experienced as well on this roller coaster ride.
Let's get the annoying out of the way first. I've learned to mostly ignore itches that can't be scratched, a loose hair in my eye, or a determined mosquito buzzing my ears. More annoying is not being able to brush teeth, blow nose, shovel food, or even enjoy a few moments of privacy in the bathroom. But the worst is the total dependence and the burden that puts on others. There is no way for me to reduce the guilt I feel about that.
But I have also experienced tremendous joy and have had a busy, fulfilling life these past three years. The birth of my grandson and being here to watch him learn and grow ranks first, and I can't wait for baby sister to arrive next month! It's been awesome to see my daughter become a super mother and see my son fall in love. My friends and family have planned amazing trips to my favorite beaches in Hawaii and California, or simple drives up the mountain to take in another sunset. My relationships with others have grown deeper and more meaningful. Because of my diagnosis, I have reconnected with childhood and college friends and have spent several laugh filled weekends reminiscing with these special people. I've developed connections with the birds, lizards, coyotes and javalina that visit me daily and can entertain myself by staring at my ever changing mountains. I've met tremendous friends from the ALS community, raised a lot of awareness and funding through our army of Shining Stars, and have given and received much support from these new friends. It's also been fulfilling to participate in trials that will hopefully lead to cure in the near future.
I became a "minister" and two very special couples allowed me the privilege of performing their marriage ceremonies; never in my wildest dreams could I have predicted that development! Along those lines, my spiritual side has strengthened, and I have found an inner peace that really I never imagined possible. So while I am curious about, and ready for whatever journey follows, I am committed to making the very most of my precious days left.
I want to offer a sincere thank you to every one of you who has been there for me and so unselfishly sacrificed to keep me going. I am humbled by your support and love. I will end this with a reminder to all of you to slow down and keep in mind the truly important things in life, and let the rest go. Let's make 2017 the best it can be!