So much uncertainty and hurdles in life
Submitted by AliB on Sun, 03/25/2018 - 09:56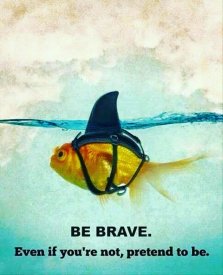 I'm not 100% sure how to even begin, so I'll go to the beginning. I'm 30 years old, (I live in a very small community) and have always lived a fast paced life. "Tell me I can't and I'll prove I can" type of personality.
About 6 months ago I began noticing I was becoming easily fatigued, just run right down. I chalked it up to working 6 days a week, caring for my husband and 2 children, while running a small hobby farm (goats, chickens, ducks and rabbits.)
My husband and I decided to move so we could add a few horses to our farm! Fantastic I thought! Things started spiraling out of control after the move and we were a few months into the new house.
I could barely get out of bed for work (just so tired), I was constantly dizzy, having problems with my speech, dropping things (chalked it up to carpal tunnel; seeing as how I was a mail carrier!)
I finally went into my doctor in November- I thought, maybe I'm depressed. She didn't think that was it though. So she ordered labs and an ultrasound on my thyroid (voice changes.) Everything with my thyroid was fine however my B12 and vitamin d was low. No problem! Great, I'll feel like my old self in no time. But after 6 weekly injections of B12 and daily vitamin d pills I felt even worse?
I was then referred to neurology. By this time I went to good old Dr. Google searching for an answer. I found multiple sclerosis (okay, kind of scary but it's manageable).. plus it fit all of my symptoms (well I thought it did.)
Met with my neurologist, she went to town with a complete work up after she had some clinical findings (which she thought were also ms.)
She tested me for MG, Lyme's disease for the 3rd time, Lupus, other forms of autoimmune disorders, rare cancers, MRI'S of my brain, and spine w/and w/out contrast, EEG, and a swallow study with speech consultant. Personally, I had no clue as to why she would refer me to speech therapy... But I suppose I was having significant issues with slurring my speech, fumbling over my words and a feeling of something being stuck in my throat.
3 weeks pass, a very long agonizing wait to see my neurologist again. During that time my legs were getting weaker and my gait was horrible, my voice was now very hoarse and nasal sounding, along with muscle twitching in my butt, and legs!! I was high stepping like a horse and tripping up the stairs..
The day finally came where I would finally get a diagnosis.. my mom and I were both scared (rightfully so) by this point.
I was called back into my doctor's room, where she immediately called in another neurologist. They both were doing their exam and my doctor kept saying this is progressing too fast, she wasn't this bad 3 weeks ago.. they both kept commenting on my reflexes, and my gait.. and then the results of my testings... We're sorry to tell you everything came back great. Everything except your speech evaluation and swallow study. "Your tongue muscles have weakened along with your throat muscles", she also noted "tongue fasiculations". I was told I would need to have an EMG and a nerve conduction test.
Fast forward 1 week from that appointment. I was being brought to the Mayo clinic in Rochester (by this time I have already started researching ALS.) I WAS TERRIFIED. I'm only 30 years old, I have two daughters, we just bought this farm house, I can no longer work, I can no longer drive, it's becoming increasingly difficult for me to walk without the use of either a cane or Walker (wheelchair for further durations.) How can this even be a real thing?
Frustration, fear, crying, trying to stay strong for my family.. but I knew something was terribly wrong...